GNUru Fantasy Baseball Columns
Written by The GNUru
Jul 29, 2007 at 09:32 PM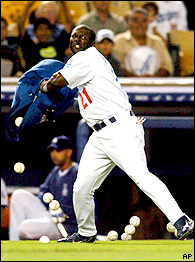 The first 17 weeks of the 2007 Fantasy Baseball season are just about in the books and we are now officially in the home stretch of the fantasy baseball season.  For some, it's about time to turn your attention to the upcoming fantasy football season.  For others it's time to fine tune your team for a playoff run.  For those still in contention for post-season fantasy play, this is the time of the year your roster and lineup decisions can make or break your season.   Lucky for you the GNUru is here to help you with your week 18 lineup decisions. 
Week 18- GNUru Batter Banter
With the first half of the season behind us, some players have settled down and have begun to hit their stride while other have faded into oblivion.  Player value at this point should pretty much represent their current level of production - that is those that are playing well have high value and those that aren't, do not (regardless of what name is involved).  At this point in the season you can now safely bench or even drop some of your sluggish sluggers in favor of some the hot hitters.  Below is a list of the hottest hitters the past few weeks to aid your lineup decisions.  While some on the list are no-brainers (Hanley and Manny Ramirez, Albert Puljols, Ryan Howard, etc.) others are still scratching their way into fantasy lineups (Pedro Peliz, Shane Victorino, Chris B. Young, Milton Bradley) and warrant lineup consideration. 
Show (0) - Add comments:
Read more...